Novak Djokovic: The 'Iron Man' device tennis star may wear at US Open - and what experts make of it
×
Novak Djokovic has raised eyebrows at this year's Grand Slams by revealing a mysterious metal disc strapped to his chest.
The tennis star had the coin-like device taped between his pectorals at the French Open and Wimbledon, and could wear it again when the US Open starts on Monday.
His first opponent is Alexandre Muller, as the Serb aims for a record-extending 24th Grand Slam men's singles title.
The world number two sees the chest gadget as key to his success - so what is it?
'Biggest secret of my career'
Djokovic was asked about the disc after his second round French Open win over Marton Fucsovics in May, after it caught the attention of bemused commentators and viewers.
"When I was a kid I liked Iron Man a lot," he said, noting its resemblance to part of the Marvel superhero's suit.
"So I try to impersonate Iron Man."
Iron Man's similarly-shaped chest device powers his robotic outfit, and is designed to prevent bullet shrapnel in his body from reaching his heart.
For Djokovic, no such problems. Instead, he said it's all about enhancing his performance on the court.
"My team delivers incredibly efficient nanotechnology to help me deliver my best," he said.
"That's probably the biggest secret of my career. If it wasn't for that, I probably wouldn't be sitting here."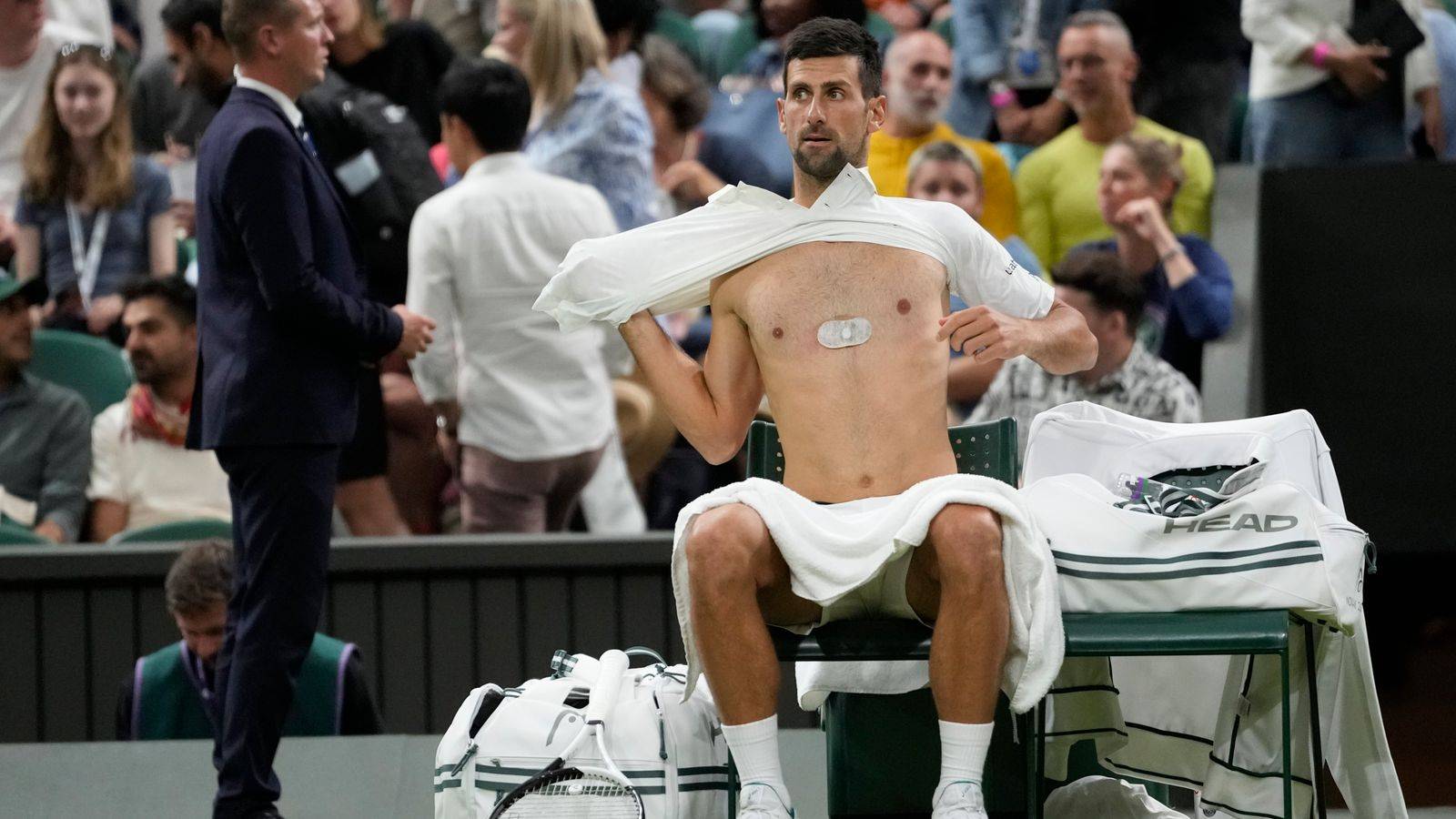 Novak Djokovic wore the device at Wimbledon this year
What kind of 'nanotechnology' is this?
Following Djokovic's comments, an Italian company called Tao Technologies said it was behind the device.
Described as a "human upgrade device", the patented Taopatch is designed to improve health and wellbeing.
It claims the patch, which "uses two layers of nanocrystals that convert heat from your body into light", sends therapeutic signals to the wearer's nervous system to help their body achieve true balance.
Improved sleep, posture, balance, flexibility, recovery times, and focus, alongside reductions in stress, anxiety, and chronic pain, are among the benefits it purportedly provides.
The firm even claims the patch - which starts at £238 - has helped patients with multiple sclerosis.
Fabio Fontana, inventor of Taopatch and CEO of Tao Technologies, told Sky News he was inspired to invest in the product after becoming dependent on painkillers after a car accident.
"All the therapies I tried only provided temporary results," he said.
"A doctor in Rome was the first to give me results with laser treatments. The benefits were significant in relieving the tension in the muscles of my neck and back, but its effectiveness lasted only a week.
"I wondered if it would be possible to create a kind of wearable laser to prolong the effect of the treatment."
The nanocrystals, he said, simulate the effect of the laser treatments he received - and that the patch is simply "a different way of administering light therapy".